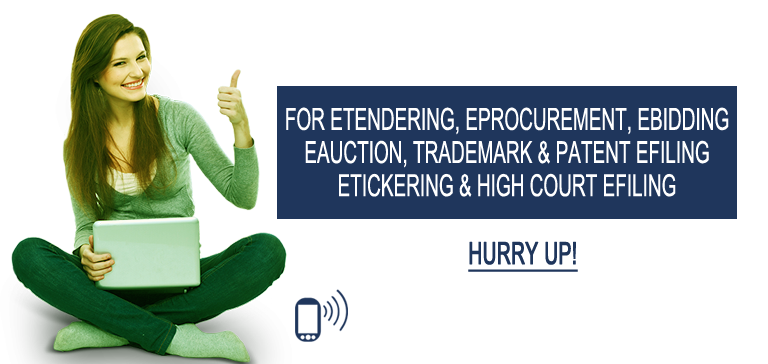 APPLY BY CHOOSE USING CLASS 3 DIGITAL SIGNATURE CERTIFICATE!
Class 3 Digital Signature Certificates
Class 3 Digital Signature Certificate (DSC) provides the highest level of assurance or trust within the RCAI hierarchy setup of Controller of Certifying Authorities (CCA) in India. which is mainly used for e procurement and e tendering. Digital Signature Certificate Class 3 are issued to Individuals or Organizations. They are especially used to authenticate the identity of the vendors as well as buyers in any e-Procurement, e-Tendering and e-Bidding process. This Digital certificate will be issued to individuals as well as organizations. As these are high assurance certificates, primarily intended for e-commerce applications, they shall be issued to individuals only on their personal (physical) appearance before the Certifying Authorities.Class 3 Digital Signature Certificate come in three validity, One Year, Two Years and Three Years. A Digital Signature Certificate Class 3, on the other hand, is of a higher level as it is issued only after the registrant's identity verification has been done by a Registration Authority. There are many types of DSC that cater to specific needs. While e-Filing on the Ministry of Corporate Affairs portal, a DSC of Class 2 and Class 3 category is required.
What are the Types of Class 3 Digital Signature Certificate
Class 3 digital signature can be issued in two categories : Signing , Signing & Encryption. Signing Certificate could only be used for signing a document whereas encryption certificate provides protection to encrypted document / information over the transmission of document / information on internet. Encryption Certificates are most popular to use on eTendering or eProcurment platforms. Encryption certificates basically secure the documents / information until it reaches to intended recipient.
Class 3 DSC : It can be issued in the name of individuals as well as organisations. These are legally valid and are used for e-commerce applications. Applicants have to appear before the certifying authority of the registration authority for obtaining class 3 Digital Signature Certificate. Users can buy class 3 digital signature certificate issued by Capricorn CA at https://www.digitalsignaturemart.com/buy-dsc-online.php
Why do I require a Digital Signature Certificate ?
A digital Signatur certificate (DSC) provides an electronic means of proving your identity. It also provides a high level of security for online transactions. You can use certificates to encrypt information so that only the recipient can read it. You can digitally sign information to provide assurance that the recipient has not been modified in transit, and allow verification that actually sent the message.
How does Digital Signature Work ?
Digital Signature Certificate, in simple terms, is a file created by a Licensed Certifying Authority through encryption and is then issued to you, in the USB eToken. When signing any particular document this file is accessed, which acts like a 'key' (Private Key) and locks & secures the document being signed (through encryption). [This is similar to using a key in a physical lock to secure your valuables in a bank locker – a lock can only be opened by its own key].
In addition to locking the document being signed, this file also adds a Digital Certificate to it containing your identity details, viz. name, Organization's name, email ID, etc.
It also adds a key code (known as public key) which is the same key that resides in the certifying authority server, thereby allowing the other party to validate the authenticity of your DSC. Contrary to popular myth, the DSC does NOT contain a scanned copy of your physical signature.
Class 3 digital signature certificates are used for online tenders of:
Bharat Heavy Electricals Limited (BHEL)
Government Of Madhya Pradesh
Indian Space Research Organization (ISRO)
National Thermal Power Corporation Limited (NTPC)
Oil and Natural Gas Corporation Limited (ONGC)
Power Grid Corporation of India Limited (PGCIL)
Hindustan Petroleum Corporation Limited (HPCL)
Indian Ordnance Factories
Northern Railway
Coal India Limited
Indian Oil Corporation
Indian Farmers Fertilizer Co-Operative (IFFCO)
Hindustan Aeronautics Limited (HAL)
South Central Railway
Brihanmumbai Electric Supply And Transport (BEST)
National Highways Authority of India (NHAI)
Gas Authority of India Limited (GAIL)
Patent e-filing
Trademark e-filing
Who Needs a Digital Signature Certificate?
According to the Ministry of Corporate Affairs, every individual that is required to sign manual documents and returns filed with ROC is required to obtain a Digital Signature Certificate (DSC). These include:
Directors
Auditors
Bank Officials – for Registration and Satisfaction of Charges
Company Secretary – Whether in practice or in job
Other Authorized Signatories
The Certifying Authorities are authorized to issue a Digital Signature Certificate with a validity of at least one year. A DSC is unique to each individual. If a professional has obtained a DSC, he/ she can use the same for e-filing of forms for multiple companies, provided he/ she has been authorized to do so by the respective companies. Digital Signatures are legally admissible as per IT ACT 2000 and are password protected and cannot be copied from a digitally signed document.
MetaTags
digital signature certificate for e-tendering, digital signature for tender, class 3 digital signature certificate for e-tendering, class 3 digital signature, class 3 digital signature certificate, digital signature certificate class 3, tcs class 3 digital signature, tcs class 3 digital signature certificate, class 3 digital signature tata consultancy, class 3 digital signature certificate e-mudhra, class iii digital signature certificate, class 3 digital signature price, sify class 3 digital signature, ncode class 3 digital signature, class 3 digital certificate, class 3 certificate, digital signature for e-tendering, what is signing and encryption, class 3 only signing digital signature certificate, eMudhra class 3 digital signature, eMudhra class 3 digital signature For eTender, DSC For eTendering, ncode class 3 digital signature, class 3 digital signature providers, class 3 digital signature certificate at lowest/cheapest price in India
Need Digital Signature? Call our Sales Team 24/7 at +91 9999634888